01-03-2023
Innovation in Healthcare Interiors and Materials
Ravideep Singh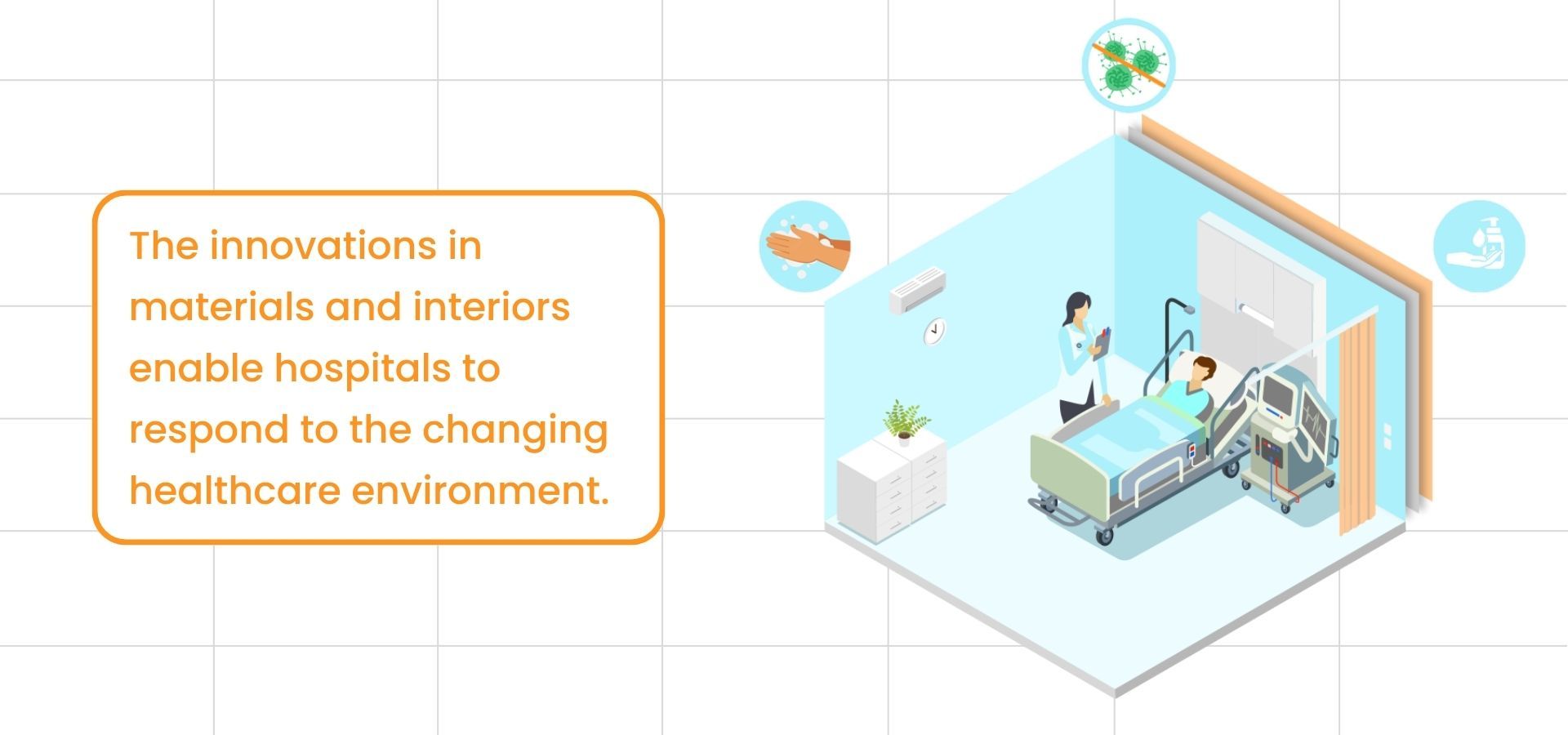 Designing for Health, Safety and Wellbeing
The COVID-19 pandemic spurred the already existing, nascent quest to achieve high infection control in healthcare settings. Subsequently, the research in material science and the inclusion of technology in healthcare settings also propelled.
The emphasis on touch-free operation has gained traction in healthcare projects through various technologies, such as sensor doorways and the incorporation of HIoT (Healthcare Internet of things) in medical furniture, such as patient beds. For instance, the Volker smart bed, can monitor patient vitals, conduct tele-visitation and even offers innovative infotainment system comfort to the patients.
Choice of Materials in Hospitals
The primary criteria for product selection in hospitals is driven by factors such as infection control which includes a high degree of cleanability, resistance to electricity, dents, abrasion, etc. Further considerations include abstaining from finishes which are VOC-emitting or require frequent maintenance.
Anti-bacterial finishes are prevalent in high-touch and high-footfall surfaces. Hospitals are high-traffic areas that are continuously used every day of the year. As a result, their interior surfaces are subject to enduring treatment. Foot traffic, trolleys, wheeled beds, and wheelchairs traverse hospital floors continuously. As a result, all surfaces, including ceilings, are exposed to bacteria and contaminants, creating patient health risks. Walls get bumped as beds are pushed from one area to another. The innovations in PVC (Polyvinyl chloride) have proven to be a massive catalyst in advancing hospital infection control, and rightly so. PVC is a hard-wearing, seamless, anti-static product that can easily be made antimicrobial and anti-fungal by impregnating biocides and silver ions. Similarly, high-touch areas such as electrical switches are increasingly transitioning towards anti-microbial finishes.
Finishes, fixtures and fittings
The topical innovation in products and finishes for healthcare settings is primarily driven by the pragmatics of infection control, ease, cost and impediments in the application and maintenance of these products. Conventionally, most hospitals use either stone or IPS-based epoxy flooring due to its minimal joints and high cleanability. However, recent innovations in material technology, such as double-charged and full-body tiles and even Vinyl, which offer better resilience to high traffic and enhanced livability, are slowly making their way into healthcare settings as a plausible alternative to conventional material.
With regards to furniture, the two primary considerations pertinent in healthcare settings include selecting fabrics and upholstery that are not susceptible to infection transmission and second is fixing attributes. For instance, improving the cushion to the couch via magnets instead of stitching allows for more operability, cleanability and hence sterility.
Moreover, clinically speaking, apart from physiological considerations, there's a growing body of psychological concerns in product/material selection, which have been shown to render positive impacts in enhancing the patient experience and recovery rates. Leveraging colour theory through innovations in materials, such as PVC, allows for curating the right kind of healthcare environment from a cognitive standpoint.
As the community's healthcare needs have changed over time, especially post-pandemic, it is only pragmatic to change our approach towards the design of these spaces. The innovations in materials and interiors enable hospitals to respond to the changing healthcare environment and the needs of the people.
Related Articles
SEE ALL Blogs